YOUR EDUCATION & RESEARCH CENTRE
PANUI – NEWS
Te Awamutu's Museum is back, but with a new purpose and a new name.
The museum was forced to close overnight last October following a seismic assessment which showed the building was vulnerable in an earthquake. Since then, staff have been ensuring the security of artefacts while planning a new, public space.
They have also continued to deliver education services, providing learning sessions to around 370 students from five schools since the closure. The education programme is part of the museum's prestigious three-year contract with the Ministry of Education.
Museum director Anne Blyth said the new space at the building leased by Council in Rickit Road could not technically be called a museum.
"Museums must meet really stringent standards in terms of climate control, pest management and security and we simply can't meet those standards in the Ricket Road space. But that doesn't mean we can't offer something else really valuable to the community, so that's what we'll be doing."
On that basis, the museum is now open as the Te Awamutu Museum Education and Research Centre. Staff will focus on providing an education-centred service and will be making the space as interactive as possible with the spotlight firmly on Waipā's rich history.
There will also be an emphasis on research with space provided so people can access the museum's extensive archive of paper, photograph and digital documents. The popular Tui & Tama Kids Club, with more than 500 members, may also use the space as a base for some activities.
"There is still going to be plenty to do and, it's certainly not like the collection has disappeared," Blyth said. "We've already got more than 18,000 items available online and that's a fabulous resource for people to use. You can lose yourself for hours online, browsing the collection."
Opening hours at the Te Awamutu Museum Education and Research Centre will be 10am – 4pm Monday to Friday and 10am – 2pm on Saturday and public holidays. The Centre will be closed on Sunday.
Museum director Anne Blyth (left) and collection manager Sarah Dawe preparing the Te Awamutu Museum Education and Research Centre for Tui & Tama's Eco Expo opening 5th March 2023.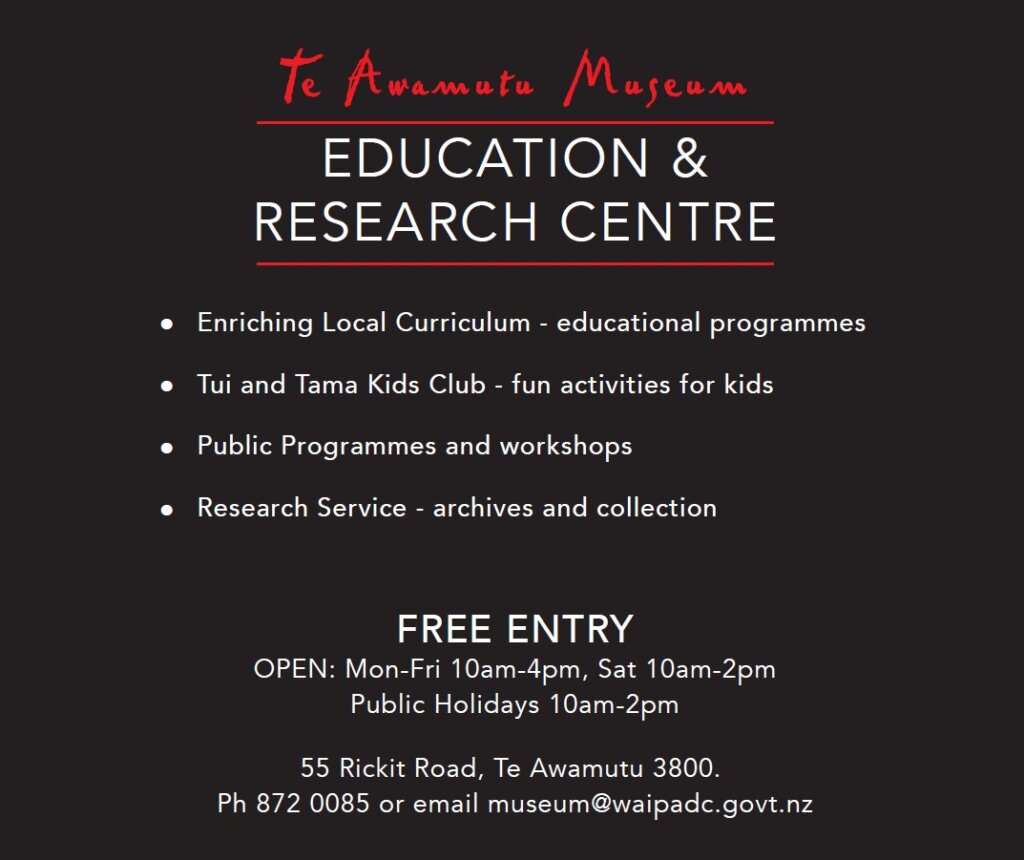 Join our Tui & Tama's Kids Club
A great opportunity to keep kids in touch with activities and events and more!
Check out this link here
Looking for something to do?
Check out fun activities here
Follow us on Facebook!
For great events, activities or just to join our community to let us know
what you'd like to see more of, click here
Follow us on Instagram!
Tag us into your feed and keep up to date on what's happening at the Museum, click here
Research Collections Online
A great way to search your way in your own time…click on this link here
Make a Research Enquiry
If your an avid researcher and have a project or subject you'd like help with…click on this link here
Are you a School or Teacher?
Looking to connect in with local history, Māori culture themes, National history subjects, Waikato Wars
or are looking for an education programme unique to your themes?
Click on this link here
Are you a Group?
We are waiting for your call 07 872 0085 or email us museum@waipadc.govt.nz
MORE ABOUT THE BEGINNINGS
MUSEUM EDUCATION ELC PROGRAM
If you're looking for things to do while at home, check out what we have to offer as interesting research or just boredom busters!